Fixed error in Garrison skin when the addon GarrisonCommander was enabled. Fixed error for shapeshifting druids who enter combat when nameplate classbar is attached to player nameplate. Send email to Carrie Added option to display custom currencies in the main Currencies datatext tooltip.
| | |
| --- | --- |
| Uploader: | Yozshurg |
| Date Added: | 21 March 2018 |
| File Size: | 35.25 Mb |
| Operating Systems: | Windows NT/2000/XP/2003/2003/7/8/10 MacOS 10/X |
| Downloads: | 18177 |
| Price: | Free* [*Free Regsitration Required] |
Implemented changes to support the new patch 7. Removed caching of HandleModifiedItemClick to allow hooks to fire from other addons.
Added toggle option for the new handling of the "Unspent Talent Alert" frame. Send email to Nazorine.
Last edited by Dajova: This option can be found in the NamePlate General Options. Aura Special Filters can now be localized. Last edited by Airarc: Changed how we control state of filters used in filter priority lists. Fixed error in reagent bank caused by trying to index a missing tkui object.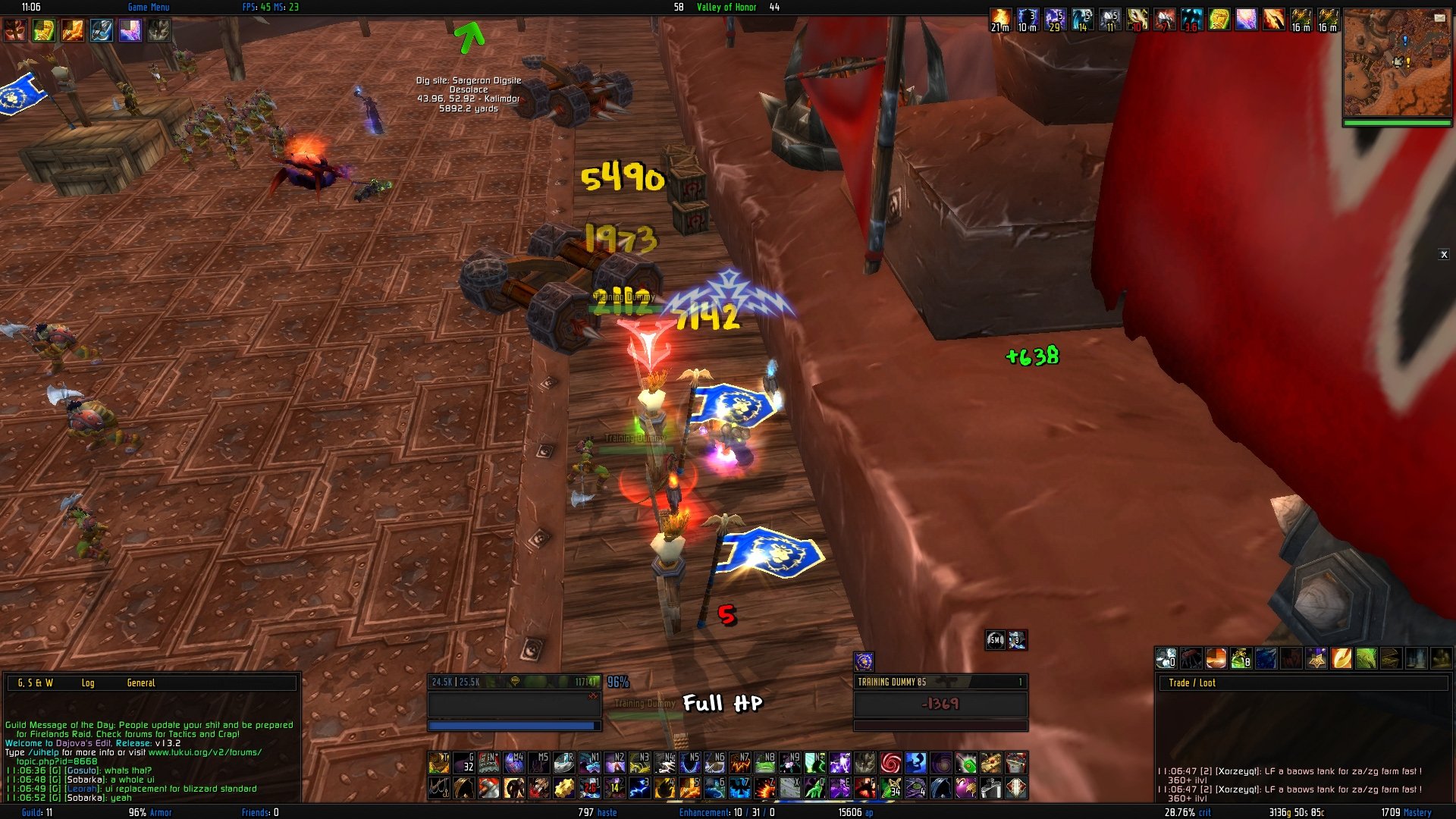 Fixed issue in Chat Copy which made it unable to copy dumped hyperlinks properly. Skinned the reward icons with a quality border on the quest skin. With the oUF update some elements have been renamed. Fixed error when setting text color on custom buff indicators.
ELVUi and Tukui
Updated the macro text on the ActionBars to use the Adfon font. Reverted some changes to Profiles section of ElvUI. Fixed issue which caused chat emojis to hijack hyperlinks. Removed "Hide In Instance" option for chat bubbles. Fixed issue which prevented item borders in bags from updating when opening the bank. Hiho I make my own TukUI Edit and i wish that one of you can say to me how addn can make that the Unitframes not disable when i using a action bar Addon Bartender, usw Fixed issue which prevented ready check icons from displaying correctly.
Dajova's UI (Tukui) : Generic Compilations : World of Warcraft AddOns
Added Instance Icons on the Saved Instances tooltip. Sort comments by Newest. Added "blockNonPersonal" special filter for aura filtering. Fixed issue with healer icon position when portrait is enabled on nameplates.
Fixed error when attempting to right click a fake unitframe spawned from "Display Frames" by unregistering mouse on these frames. Fixed issue with UnitFrame Mouseglow when Portraits was enabled in non-overlay mode. Added toggle option for display of targeted nameplate health bar.
Added new library LibArtifactPower Friend datatext can now show friends who are playing multiple games and show each character that is on WoW with the ability to invite or whisper each toon via right click menu. Fixed issue which caused the "Hide" action on nameplate style filters to incorrectly show hidden nameplates if "Hide" was disabled. Add arzeus to Your Buddy List. Fixed a performance issue with bag sorting.
Blizzard has made chat bubbles in dungeons and raids protected, meaning we cannot modify them at all.
Added option to exclude names from Class Color Mentions. Added option in our media section to remove the cropping from icons. Added new style filter trigger "Casting Non-Interruptible".